Felix Dames Music | Release EP Zeitgeist Corona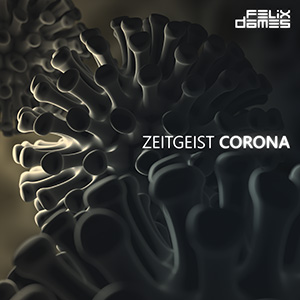 Felix Dames - Zeitgeist Corona | Ambient EP
Digital Download | Stream
Distribution: recordJet
Released: 19.06.2020
Tracklist:
01. Coronavirus SARS-CoV-2
(3:54)
02. Pandemie
(4:04)
03. COVID-19
(4:12)
04. Lockdown
(8:32)
05. Wirtschaftskrise
(3:54)
06. Aerosol
(5:07)
07. Coronita die Mutation
(4:11)
Total Playtime: 33:54
Zeitgeist Corona is available worldwide. Get it and listen on:
Album Information
With "Zeitgeist Corona" Felix Dames succeeds in creating a contemporary masterpiece of electronic sound art, which makes use of various ambient subgenres. From dark-ambient to new-age sounds, a broad spectrum of innovative sound design and unconventional sound collages is explored.
In it he processes thoughts and impressions, positive and negative feelings as well as fears and uncertainties of the past months of the ongoing corona pandemic.
His auditory interpretation of the SARS-CoV-2 virus, the disease COVID-19 or the tonal representation of aerosols, shows an almost cinematic claim to musically reappraise this moving theme and to classify it sonically.
With the track Lockdown it becomes clear that a decelerated society with more mindfulness and social cohesion, as well as a globalized world coming to rest for the first time and an environment that is recovering as a result, has positive aspects to offer.
Economically affected by the Corona crisis itself, Felix consistently works through the most important topics chronologically during the lockdown period, thus creating a project for himself to gain something positive from this difficult time and preparing a work of finest electronic sound worlds for his listeners.
Social and physical distance, a radical change of life combined with the chance of a new beginning provided the philosophical ingredients and inspiration for this concept album, which Felix, who otherwise works mainly in the minimal techno field, primarily wants to be understood as a work of art of the time.